This webpage contains affiliate links. We may earn commissions for purchases made through affiliate links in this webpage. For more information, please read our
Affiliate Disclaimer Policy
.
Universal Standard
Universal Standard started with the two of us, but we actually wanted to do it for all of us. We lived in a world in which access was limited. We couldn't shop together; one of us could hardly shop at all. It felt unfair, but moreover, it made no sense. If 67% of women in the U.S. wear a size 14 or above, why were their options so dismal? It was clear that all women weren't given the same level of style, quality, or even respect.
We asked ourselves the whys, and then we asked ourselves the hows. How can we participate in the change we wanted to see? How can we bring all women together in a way that no one ever has before? We wanted a size 40 to shop in the same way as a size 00 – using style as her only filter, and we wanted to be the ones to make that happen. Our goals were lofty; some may say idealistic, some may even say impossible. But we'd have to disagree. When we finally decided to take the plunge – leave our jobs, uproot our lives – we promised each other we wouldn't go back on our goal to break down existing barriers and give all women Fashion Freedom. We put "Universal Standard" on a whiteboard and have worked to define that ever since.
We thought about how a number on a label had so much influence on our lives and triggered internal bullies that told us we're not worth it, so we took size out of the equation with Fit Liberty and let you shop without anxiety, fear, or regret. We decided that we wouldn't compromise on quality, that our obsession with fit was justified, and that modern essentials would be our style uniform. We wanted to innovate, to push ourselves, and set new standards.
We're not done – not even close – and we promise we won't stop until we bring fashion for all women up to a Universal Standard.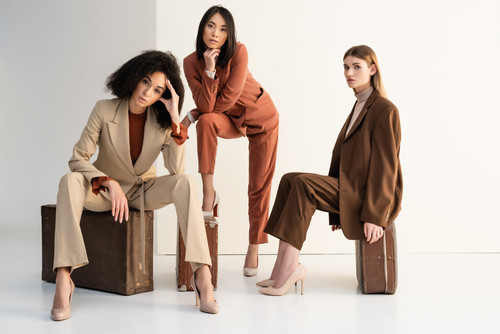 The most size inclusive brand. Period.
Revolutionary inclusivity means creating unprecedented access to fashion for all of US, as we are. In an industry full of divisions, we thought that a size 6 should have the exact same shopping experience as a size 36, so we made it happen. We're bringing fashion for all up to a Universal Standard.